In The Beginning
Originally, Animal Makers were hired to do the design for the Salem character's puppets on Sabrina the Teenage Witch. They produced, on their third attempt, puppets looking like this: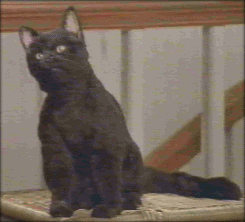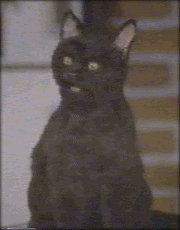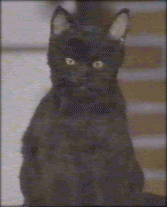 Chiodo Brothers now create the puppets, their first version looks like this: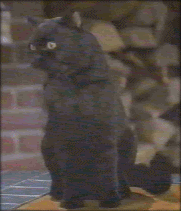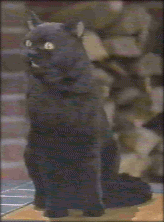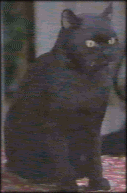 The decision to change company had been made (covertly) approximately six months before the change occurred, since Chiodo Brothers had to make the replacement cat. Nobody except management knew of the change until after the switch had occurred, this was to prevent Animal Makers from learning of the deal. Animal Makers owned (and indeed, still own) their puppets - if Animal Makers had simply walked out, Viacom would have been stuck with no cat!!!
Although Viacom had had the new cats built, they still tried to buy the Animal Makers puppets before sacking Animal Makers.
Why the Change?
Inside sources informed me that there has been an underlying tension between Animal Makers' president Jim Boulden and Viacom management for a long time. This may have been partly due to the ownership issue - since Viacom did not own the puppets they were vulnerable (as mentioned above).
Paula Hart, the Executive Producer of STTW, cited a lack of professionalism regarding fellow actors and producers as the reason for firing Jim Boulden's company.
Will they change back?
No. Most people on the show are quite pleased with the new puppets, so it is unlikely they would go back to Animal Makers - in any case, Jim Boulden has told me he does not wish to return:
That character is kinda done for me. Salem is a good puppet(s) and now I want to book those puppets on other shows. I was hoping to introduce Salem's nemesis, "Crackers" the Macaw. I wanted Crackers dropped off by Sabrina's friend and to drive Salem nuts. Then we'd have a little plotting going on by Salem, with counter strokes by this wise cracking macaw. But that's just me......

Jim
Further Research
There is some extra information about Animal Makers on my Salem Puppets page.
You can read what Jim Boulden, Edward Chiodo, Nick Bakay and Paula Hart have said on the Debate Comments Page.
---