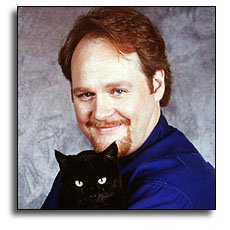 Full Name:

Nick Bakay (pronounced buck-eye)

Birthday:

Born on 8th October (Buffalo, NY)

Height:

6'

Hair:

Red/blond

Eyes:

Blue

Marital Status:

Married
"Bakay" is a Hungarian name that is pronounced "buck-eye", with the accent on the "eye". Just to add to the confusion, I am told that British friends of his call him Nick "Back-eye".
Nick Bakay is both the voice of Salem and the executive story editor on the show. He has also written a few episodes. In #011, "A Girl and Her Cat", Nick Bakay played the man holding the misletoe at one of the doors.
Nick Bakay has sung in some of the episodes, too: for example in #034, "To Tell a Mortal".
Because he is the executive story editor on the show, he has to be on set continually, and not just when they are filming scenes involving Salem (unlike the other actors, who go home once their bit is done).
I have two pictures of Nick Bakay, in both he is holding Salem:
Nick Bakay says that when meeting kids, he will get equal recognition for being Salem or Norbert, the character whose voice he portrays in The Angry Beavers.

You can contact Nick Bakay's agent, Julie Wixson, at the following address. (Note that this is a different address to that which I quoted a few months back).

Julie Wixson
UTA
9560 Wilshire Blvd.,
Beverly Hills
CA 90212.

Nick Bakay's managers are Gold-Miller, at this address:

Gold-Miller
UFA
9220 Sunset Blvd.,
Ste. 320, Los Angeles,
CA 90069.

He will receive fan mail sent to the above addresses.

A native of Buffalo, New York, Nick Bakay graduated from Kenyon College in Ohio. In 1983, Bakay graduated from the Professional Acting Program at SMU in Dallas, Texas with an MFA (Master of Art). After moving to New York, he spent the early part of his acting career performing in numerous theater productions. At the same time, he became a contributing editor for The National Lampoon Magazine, writing features and fake letters to the editor, and also creating a comic strip called The Evil Clown. This led to a writing job and starring roles in two cable series, Night After Night With Allen Havey and Sports Monster.

After landing a job as writer and sidekick/announcer on The Dennis Miller Show, Bakay decided it was time to move to Los Angeles. Since that time he has written and performed in numerous television series, including What's So Funny, She TV, In Living Color, Nick Bakay's Tale of the Tape, and Comedy Central's Baseballapalooza and NFL Offsides. He has also guest-starred in many series: Coach, Ellen (playing Lloyd in the 1994 episode Mrs. Koger), Grace Under Fire, Seinfeld (as Carl in the 1993 episode The Smelly Car), Murphy Brown (playing the character Reindeer in a 1994 episode) The Equalizer, One Life to Live, and the pilot for It's Like, You Know.

His feature film credits include A Weekend in the Country (1996 TV) Statical Planet (1997), The TV Wheel (1995 TV), and Jury Duty (1995).

Since 1995, Bakay has worked as a writer and announcer for the NFL Draft. Currently, he continues to provide humorous segments and commentary for ESPN and ESPN2 (as he has done since 1992) and provides the voices of Norbert Beaver, in the cartoon series The Angry Beavers, and Salem, in the comedy Sabrina the Teenage Witch. The Angry Beavers premiered in April 1997, about 7 months after Sabrina.

On the 7th of November 1997, Nick Bakay guest starred in three shows, all as Salem, as part of a marketing stunt organised by ABC. The shows were Boy Meets World (episode 5.6, No Guts, No Cory), Teen Angel (episode 1.7, One Dog Night) and You Wish (also episode 1.7, Genie Without A Cause). The idea of the story was that Salem had found a time ball of some kind that Sabrina had left behind, and every time someone thought of a place in time, he jumped into it.

Bakay currently lives in Los Angeles with his wife Robin (a writer).

Nick Bakay was not actively seeking work as a voice actor, and so finds it funny that both Sabrina and Angry Beavers cast him in such a position at about the same time. The voice work I've done previously has all been straight commercial voice-overs, he explains. Then all of a sudden, within three months of each other, I became the voice of these animals, and obviously, there's no way you plan for that. It chooses you! [...] The best thing is that both characters are really funny. It's really a pleasure to do. On that level, it's like any kind of acting situation. If you like your character and the writing's good, it's a joy to do.

Source: ANiMATO! (The Animation Fan's Magazine), Issue 39, Pages 14-16.

Nick Bakay used to collect Comic Books.

Source: ANiMATO! (The Animation Fan's Magazine), Issue 39, Pages 14-16.

Nick Bakay has two cats and one dog. He also likes otters and moles, although he does not have any pets which are members of these species.

Source: Nick Bakay.

The information given below is based largely on an AOL interview with Nick Bakay (which occurred during season 1) and the article by Judy Reboy on pages 14-16 of Issue 39 of ANiMATO! ("The Animation Fan's Magazine") (which occurred during season 2). I have quoted these interview frequently throughout this site. A few points to note from them are:
Favourite Episodes:

From the AOL Interview (Season 1): I have a couple. There's one coming up called the "Troll Bride" [#024] that I helped write. It's a really fun episode where Sabrina is kidnapped by a troll who wants to make her his bride! It turned out really well. Another favorite episode is when the kids go to Boston to see the Violent Femmes. I loved that episode as well! (#015, "Hilda and Zelda: The Teenage Years")

From ANiMATO! (Season 2): #033, "Witch Trash" and #030, "Sabrina, The Teenage Boy".

I would love to when the situation arises, like if Salem were to come back in his human form. Who knows what'll happen then. I have appeared on the show twice, though. I was on the Christmas episode when Salem gets lost. There's a scene when Sabrina's knocking on doors looking for Salem and at one door a guy is holding a mistletoe. That's me! I also appear in an upcoming scene with a lot of flashbacks in it. Salem has a flashback to trying to dominate the world. I'm playing Salem but the lighting is such that you can't quite make me out.

Other things:

He likes both jobs equally. He loves cats.
Do you have more material? Pictures or sound clips of Nick Bakay? Information? Corrections? Comments? Links? Please e-mail them to me: py8ieh@bath.ac.uk.
---